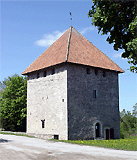 The estate belonged to the Wackes in the Middle Ages and was constructed to serve as a four-storey fortifying tower (the fortification still remains, and it was restored in 1986 and is now a museum).

Later the estate belonged to the Edler von Rennenkampffs for a long time, at the end of the 18th century they elaborated a Baroque centre for the manor house (the wooden main building burnt down in 1918, but the granary with a stone arcade and the stall-stable coach still remain).

Additional information (museum): muuseum@v-maarja.ee, ph +372 326 1625.